Article content
With heat warnings becoming a regular occurrence in Windsor-Essex this time of year, police are sternly reminding the public not to leave pets alone in hot parked vehicles.
Article content
"It is against the law to leave a pet unattended in a parked vehicle in a manner that endangers the health or safety of the animal, as outlined in the Provincial Animal Welfare Services (PAWS) Act," the Windsor Police Service noted.
Article content
The act includes a section on animals in "critical distress in a motor vehicle."
Under the legislation, a prescribed person who has reasonable grounds to believe that there's an animal in critical distress in a vehicle may enter that vehicle for the purpose of relieving the animal.
Further, that prescribed person "may cause damage to the motor vehicle that is reasonably necessary in order to enter it and relieve the animal from distress."
Any costs involved in the damage or the steps taken to enter the vehicle are the responsibility of the owner or custodian of the animal.
Article content
"Prescribed persons" under the law are police officers, provincial animal welfare inspectors, and First Nations constables.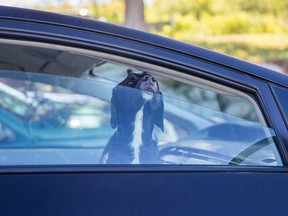 The Windsor/Essex County Humane Society had a similar reminder last month as summer temperatures ramped up.
"Dogs die in hot cars," the WECHS stated. "We know you love your pet and that they want to be with you, but on hot days, please love them enough to leave them at home."
Members of the public who see an animal in danger showing "clear signs of heatstroke or other distress symptoms" are asked to call the Windsor police non-emergency number (519-258-6111) or the Windsor/Essex County Humane Society (519-966-5751).
Environment Canada issues multi-day heat warning for Windsor-Essex

New program offers therapy dogs to comfort Windsor police officers

Amherstburg opens town's first dog park
link