Since the Food and Drug Administration first warned about a possible link between a potentially fatal canine heart condition and "grain free" pet foods in 2018, owners and veterinarians have continued to report cases of dogs developing diet-related dilated cardiomyopathy, or DCM.
DCM is a disease in which the heart gets larger, leaving it weaker and less able to pump blood. Some breeds of dogs, including the Doberman pinscher, the Great Dane, the Boxer, and the cocker spaniel, are known to be at greater risk for the condition. Golden retrievers are especially vulnerable to developing DCM if their diet leaves them deficient in an amino acid called taurine.
The FDA's most recent tally of dogs, and a much smaller number of cats, with diet-related DCM included 1,382 cases, 255 of which had been determined between Aug. 1, 2020, and Nov. 1, 2022.
In 2019, the FDA named 16 brands of dog food associated with the rare form of heart disease, although it didn't suggest that owners stop giving the food, which often contains high levels of peas, lentils and potatoes, to their pets.
Researchers and veterinarians don't yet know exactly how dog and cat food might cause damage to some pets' hearts, but a study published in 2021 suggested that a culprit could be the high levels of peas in certain pet foods.
That finding was backed up in May when Canadian scientists published a study on the effects of a 28-day diet on eight adult beagle dogs, a breed chosen because it's not known to be susceptible to the heart condition. The veterinary researchers from the University of Saskatchewan fed the dogs one of three diets: a traditional diet; a grain-free diet high in lentils; and a grain free diet high in peas. They then repeated the experiment with the other two diets so that all the beagles had experience with all three diets. The researchers observed "DCM-like changes" in dogs that had been consuming the pea diet for 28 days.
It's not yet clear what it is about peas that could be harming pet hearts, said the study's senior author, Lynn Weber, a professor of veterinary biomedical sciences at the University of Saskatchewan Western College of Veterinary Medicine.  
One possibility is the amount of fiber in peas. "I suspect if we remove all peas from all dog and cat foods we're still going to run into a problem," Weber said, noting that more research is needed to find out what it is about the peas and possibly other ingredients that is leading to heart damage.  
The best evidence relating DCM to certain diets is how dogs' hearts improve once they are switched to a traditional diet, said Dr. Aly Cohen, an associate veterinarian at the Riney Canine Health Center and a clinical instructor at the Maddie's Shelter Medicine Program at Cornell University's School of Veterinary Medicine.
The peak in the number of reports — 608 between May 1, 2019, and July 31, 2020 — came shortly after the FDA released the brand names of the pet foods that appeared to be linked to the development of DCM.
FDA spokeswoman Veronika Pfaeffle noted that the agency's investigation of the issue continues but cautioned against reading too much into the new stats.
"While adverse event numbers can be a potential signal of an issue with an FDA regulated product, by themselves, they do not supply sufficient data to establish a causal relationship with reported product(s)," Pfaeffle said in an email. The FDA hasn't recalled any pet food products, and the agency doesn't plan to release further public updates until "there is meaningful new scientific information to share."
While the rate of new cases seems to have slowed, experts say the problem may be more widespread than the number of reports suggests.
Dr. William Rausch says his cardiology practice still sees about one new case every week. And because studies have found that dogs can be developing DCM for years without symptoms, "it suggests that for every case I see there are many more [dogs] walking around out there that seem normal but are developing the disease," said Rausch, a veterinary cardiologist in private practice and an adjunct professor at the University of Washington in Seattle.
The Pet Food Institute, an industry group that represents most pet food companies in the U.S., appreciates the FDA's attention to the issue, Sherri Kirk, a spokesperson for the organization, said in an email. "Our members continue to conduct research to determine the highest quality and safest ingredients to provide complete and balanced dog food to help dogs live long and healthy lives."
Symptoms to watch for
For the most part, dogs don't show any signs until they are experiencing heart failure, said Dr. Terri DeFrancesco, a professor of cardiology and critical care at North Carolina State University College of Veterinary Medicine.
Signs that a dog is developing heart failure include:
Decreased activity.
Tiredness.
Lethargy.
Coughing.
Shortness of breath.
Decreased appetite.
For dog and cat owners, the discovery that carefully chosen foods could have damaged the heart of a beloved pet can be wrenching.
Julie Carter was stunned when her 3 1/2-year-old golden retriever Oliver was diagnosed first with a heart murmur and then, after an echocardiogram, with full-blown DCM in February 2018. A short time after that, Carter's other golden retriever was diagnosed with DCM but at an earlier stage than Oliver.
After explaining the condition, Carter's vet asked what type of dog food Oliver had been eating. "It was really horrifying to think that I could have in any way been responsible because of my choice of his diet," the Florham Park, New Jersey, resident told NBC News.
Carter switched both dogs to a food with a more traditional formulation and started them on heart medication. But the damage to Oliver's heart was too great and within six months, he died. Carter's other dog, Riley, eventually recovered.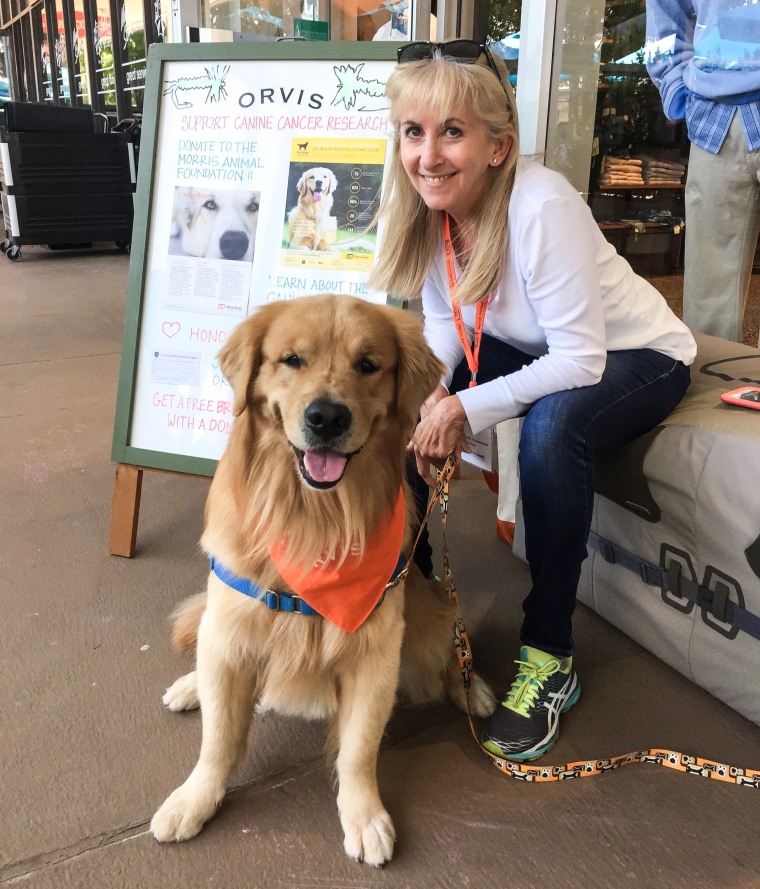 Before the first FDA advisory, some vets had already been seeing cases of DCM that appeared to be related to certain dog foods.
"The first case I saw was in 2017," said DeFrancesco.
The veterinary cardiologist said she used to report every case, but with news coverage of the issue and the loss of the staff member who used to handle FDA reports, she has stopped. It's likely that the reports to the FDA are just the tip of the iceberg, because many owners and vets don't have time to fill out the forms, DeFrancesco said.
DeFrancesco believes that diet-related DCM is most likely multifactorial, with some pets inheriting a genetic susceptibility that is triggered by certain types of diets.
"Millions of dogs eat these diets but millions do not get DCM," she said, adding that she advises pet owners to avoid nontraditional formulations because it can't be known in advance whether a pet might be susceptible.
There is a way for pet owners who don't want to switch from their nontraditional brand of pet food to check on heart health, said Dr. Joe Bartges, a professor of internal medicine, interventional radiology and nutrition at the Veterinary Medical Center at the University of Georgia. 
"There are biomarkers that can look at whether the heart muscle has been damaged," Bartges said, adding that veterinarians can run a blood test that measures levels of a protein called BNP. 
Cornell's Cohen advises owners to steer clear of any pet foods that have these listed in the top 10 ingredients:
Peas.
Lentils.
Chickpeas.
Potatoes or sweet potatoes.
Even with the news coverage of diet-related DCM, there are owners who are not familiar with the issue. Carter, who participates in a Facebook DCM group, recently heard from another golden retriever owner whose dog had died from the condition.
"Her 5-year-old golden retriever had died two months ago after being fed one of the diets linked to this disease," Carter said. "Her loss hit me hard, especially considering her dog's age and breed. I put my head down on my desk and cried."
CLARIFICATION: (Aug. 27, 6:50 p.m. ET): An earlier version of this article did not include the full response from the FDA. It has been updated to reflect that the agency says it hasn't "established a causal relationship" between heart damage and the reported pet food products.
link