Share this article paywall-free.

Coulee Region Humane Society

Tank and Box Car Billy
Tank has the biggest heart and wants to share all the love with his people! Once he gets to know you, he is crazy affectionate and will want to crawl into your lap for snuggles.
Tank's previous owners stated he was housetrained and had access to a doggy door. He is looking for his new family to provide him with a consistent potty routine to help him be successful in his transition.
Tank is a little too interested in chasing cats and other small animals, so we feel he needs a home without smaller pets. He gets along with some dogs, but a dog meet with a resident dog is required prior to adoption. Tank really enjoyed making a German Shepherd friend when he was on a weekend getaway with one of the CRHS staff members! He lived with kids of all ages in his previous home but wasn't fond of the younger kiddos. We recommend he live with kids 10 years and older- old enough to respect his space.
Tank was very unsure and scared when he arrived at CRHS. After some time to decompress, he has shown to be a true lover. He is very snuggly with the people he trusts and gives the best hugs and kisses! Tank takes treats gently and knows the commands "sit, down, touch, focus, and leave it!" Tank thrives in a consistent routine and is more comfortable when he knows what to expect.
Tank is looking for a family that can provide regular physical exercise as well as mental stimuli to keep him healthy and happy. He needs someone who will be patient while he adjusts to his new home and family. Prior experience with Shepherds and Elkhounds isn't a requirement but would be helpful.
Tank is a 1-year-old, neutered male, Norwegian Elkhound/German Shepherd Mix. He is 40 lbs. Tank is experiencing a stay of more than 30 days at the shelter. To help him find his forever home, his adoption fee has been reduced by 50% to $150.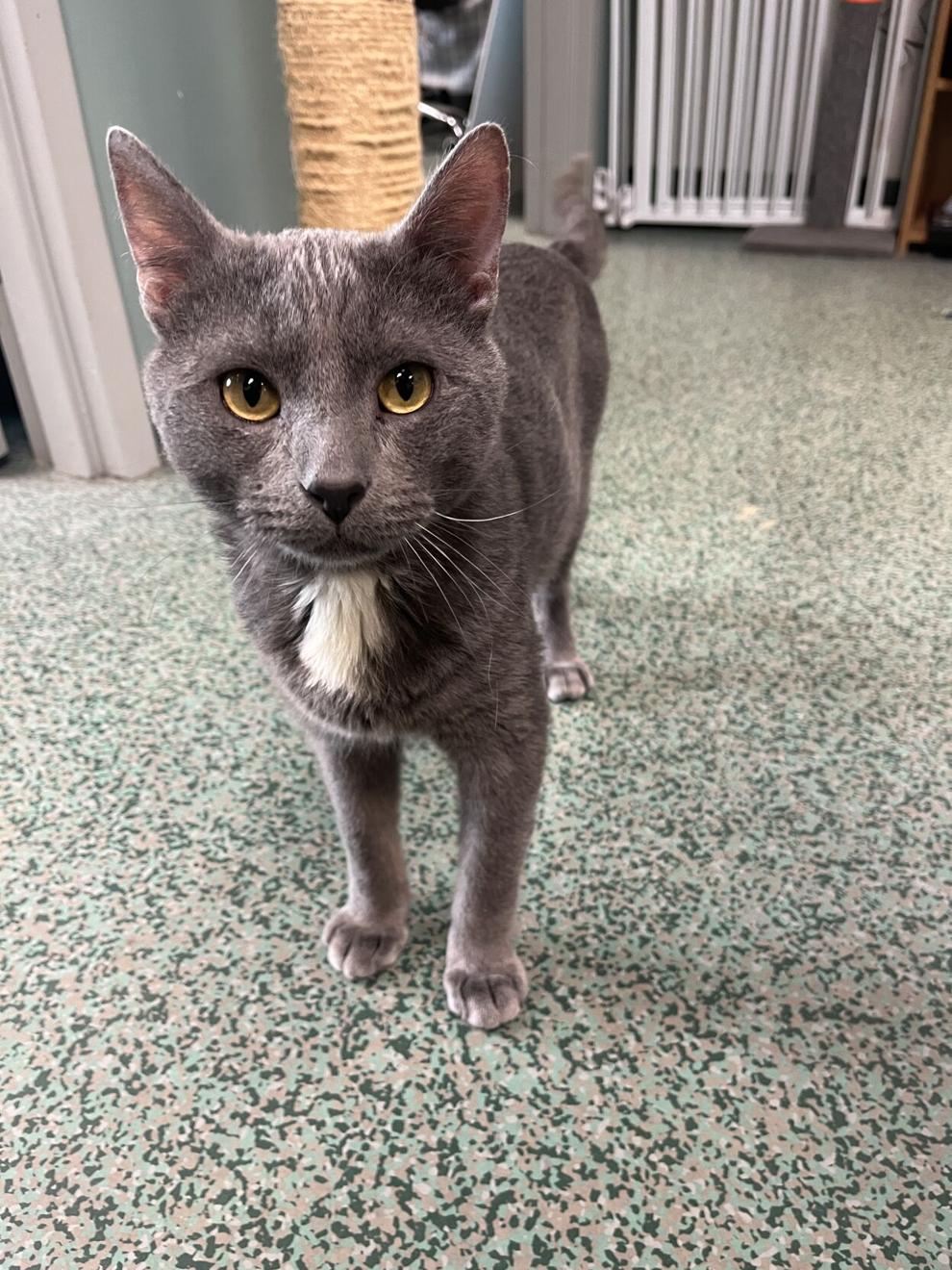 Box Car Billy is a handsome goofball who is ready to entertain his new family with his funny and social personality! This energetic guy is always on the go, whether he's exploring his surroundings, hopping up in the window to check out what is happening outside, and batting or chasing around his toys from room to room. He is always ready and willing to meet new friends!
Once he is ready to relax, he is a sweet man who loves pets and head scratches. Bill will ask nicely for some cuddle time with a gently head butt, then curl up right next to you or in your lap.
Box Car Billy is a social and confident guy so he should do great in any home including those with children of any age as well as other pets given slow and proper introductions.
Billy is a 3-year-old neutered male. He is current on his vaccinations, microchipped, and FeLV negative! He is FIV positive. FIV is an auto immune disease that is fairly common and only affects cats. Many cats go on to live long and healthy lives with FIV– please don't hesitate to ask CRHS staff for more information!
Because of his FIV+ status, Box Car Billy is looking for an Exceptional Owner—and therefore his adoption fee has been reduced by 50% to $30.
If interested in these or any of the many other animals available for adoption at the Coulee Region Humane Society, fill out an application on our website www.couleehumane.com.
link